Countertop POS Machines
Countertop POS systems and card machines are the most popular type of payment acceptance device for businesses across North America. They are Compact, simple to install and easy to use for both merchants and their customers.
Countertop card machines are well-suited to meet the payment processing needs of a wide range of retailers, restaurants, service-based businesses and more. However, one size does not fit all. Our experts realize that your business is unique, and requires countertop credit card terminals that match how and where your customers want to pay.
All of our countertop POS systems are highly secure, allowing you to confidently process both debit and credit transactions from your customers. Our countertop card machines are equipped to accept a variety of card payment options, such as;
Chip and pin technology,
contactless (tap) payments.
Apple Pay
Andriod Pay
Portable POS Machines
Whether you operate a restaurant or bar, retail store or mobile business, you may have considered a wireless debit machine to process your customers' payments. There are many advantages to portable credit card machines, which allow you to bring your POS terminal directly to your customer's location for payment. This not only makes it easier for you and your employees to quickly perform transactions, it also can improve your overall customer experience and keep your valued clients coming back for more. To choose the best portable credit card reader for your needs, consider whether you need a short-range wireless or long-range wireless handheld POS Machine.
A short-range portable debit machine uses Bluetooth technology, and is best suited to restaurants, retail store locations and smaller businesses looking to add flexibility to their checkout process.
Long-range wireless terminals, on the other hand, allow for credit card processing from anywhere a 3G connection is available. This style of wireless terminal is ideal for businesses who need to process payments when on location at a customer's home or business, offering the ultimate in mobility.
We are proud to offer leading handheld credit card machines that allow our customers to accept popular methods of payment, including chip and pin technology, contactless payments and NFC.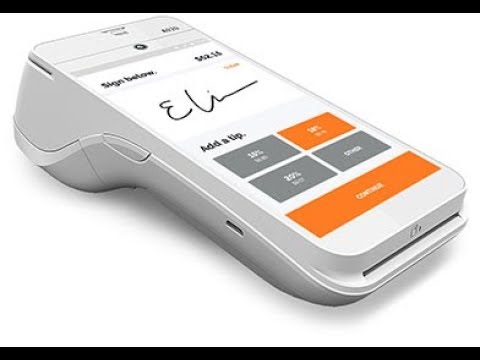 Compatible With All The Top Mobile Devices
Mobile Card Readers
Our Mobile POS solution gives you the ability to quickly accept payments anywhere you go using your smartphone or tablet. Its convenient app works with most Apple® and Android® mobile devices, allowing merchants to easily key in payment information or accept swiped transactions via a secure card reader.
Customers simply sign the screen to complete payment, and an electronic receipt is emailed to them. Mobile Card Readers are ideal for a small size business with a need for mobile credit card processing on the go. This flexible solution can also be used at your location for payments during peak sales seasons, essentially creating a new payment terminal without the added expense. You can even capture and store Purchase Description, Invoice Number and Address details to provide detailed insights into payment activity.
Our Mobile card readers can turn iPhones, iPads or Android smartphones into handheld payment systems. Simply download our payment app, log into your own secure account and start processing transactions in real-time using your device's 3G or WiFi connection! Take advantage of using your card-reader and process securely at lower Visa and MasterCard processing rates. It's as simple as plug and play.
The secure card-reader authenticator uses Magnesafe Security Architecture to protect cardholder data through instant dynamic encryption, tokenization and authentication, so both you and your customer can rest easy knowing each and every transaction is safe.
Apple Pay made easy with Take Payments
As a Take Payment's customer you're in a great position to take advantage of all the buzz and excitement around the launch of Apple Pay around the world, because all our POS Machines are enabled to accept Apple Pay in store, right from the start.
There's no integration or certification involved as long as you accept MasterCard and Visa contactless transactions. And as our customer, the chances are you can start welcoming Apple Pay customers in store without doing a single thing.
So simple, everyone will be doing it
To pay, you just have to hold your iPhone near the contactless reader, exactly as you would a contactless card. The payment information will be passed to the POS system only once you authenticate the transaction with your finger on Touch ID as verification for the purchase.
WHAT IS ANDROID PAY?
Android Pay is a mobile payment system that lets customers pay for goods using an Android device like a mobile phone or tablet. By adding their card details to their Android device, customers can use it to pay in-store for a swifter, smoother and more secure payment experience.
WHY IS IT IMPORTANT?
You might be thinking that this sounds like another gadget fad that will soon disappear, but just as the use of Contactless cards has skyrocketed since its introduction in 2007, Android Pay is expected to do the same. The reason? Speed of payment is vastly improved, meaning merchants can serve more customers in a shorter time period, and without the need to pull out their purse or wallet, the customer enjoys a smoother in-store experience.
WIDELY USED, WIDELY SUPPORTED
Visa, MasterCard and American Express have all come on board with Android Pay
More and more customers are looking to complete purchases using contactless technology. Wireless Terminal Solutions' card machines are contactless enabled using NFC technology. Near Field Technology (NFC) was invented in early 2002, and it enables short range communication between compatible devices. This requires at least one transmitting device, and another to receive the signal. NFC is another standard for wireless data transitions, meaning that there are specifications which devices have to adhere to in order to communicate with each other properly.
Recent reports stated that contactless card payments are 76% quicker than cash and 58% speedier than the traditional Chip and PIN payments. If you are in a retail setting, going contactless eliminates queues and is pivotal to keeping customers happy. Wireless Terminal Solutions' contactless card machines are programmed to accept Google Pay. By doing so you are one step ahead of your competitors, and providing customers with a convenient quick payment solution.